This Father's Day, learn how to spot male birds and what they do for their little ones. Have you seen any of these amazing bird dads where you live?
Let's Get Started
Male and female birds of the same species often do not look the same. The males may have bold-colored feathers, sing louder, and have different behaviors. Just take a look at the two cardinals pictured above. The male is a bold red and the female has mostly tan or light brown feathers.
While they may look different, did you know that many male birds are fantastic fathers? See if you can learn to identity male and female species of birds in your neighborhood, and look for these super dad behaviors:

Amazing!
Amazing!
SEARCH:
Go outside and look around. You should find birds almost anywhere. How many different sizes, colors and shapes do you see?

Awesome!
Awesome!
COUNT:
How many different types of birds do you see? You may notice that some types of birds are found alone, in pairs, or in larger groups. How many are males?

Fantastic!
Fantastic!
LOCATE:
Birds can be found in many different locations and different times of day. Some can be found on the ground searching for food, bathing in water, resting or nesting in bushes, or trees. Can you find a male bird bringing food to a nesting mate or feeding baby birds?

Awesome!
Awesome!
IDENTIFY:
Can you hear a male bird singing or calling loudly? You can learn to identify birds just by the songs and calls they make.

Wonderful!
Wonderful!
LISTEN:
There are so many sounds outside. Do you notice any repeating patterns in bird songs?
Document Your Discoveries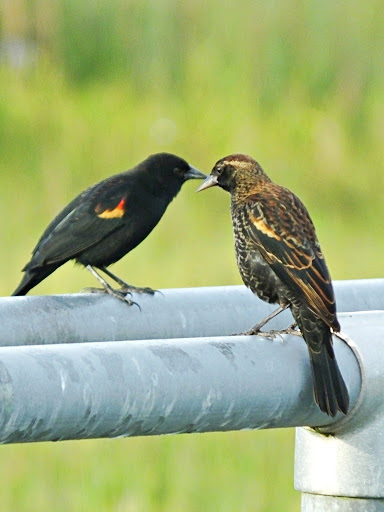 Draw or describe bird pairs in your Nature Notebook.
Add to your bird life list.
Play Bird Bingo,
Bonus: Observe more birds and help them through the summer heat by placing a shallow dish of water in your yard or patio where birds can find it. For more ideas, go to Backyard Gifts for Birds.