A beautiful sunset can create a memorable family vacation moment or a cool social media post. But you can enjoy a sunset every day from everywhere!
Let's Get Started
Watching the sun rise and set is part of many traditions throughout history and today. It marks the start and end of holy days in Judaism such as Rosh Hashanah and Shabbat each Friday, as well as other special days and events for many cultures.
As a family or by yourself, add a little wonder to your day and take a few minutes to watch the sunset.

Awesome!
Awesome!
SEARCH:
Find a good spot to watch the sun rise or set. You may need to go around to the other side of your home or find a safe place to see it. Try to find a spot with a clear view of the horizon and the sky in general. 

Wonderful!
Wonderful!
COUNT:
Check your local weather app to see what time the sun is expected to rise and set in your area. Did you know timezones were made to acknowledge that the sun doesn't rise at the same time all over the earth? Because of the sun's rotation, it appears to "rise" and "set" at different times in different regions. There are 24 time zones because the earth can be divided into about 24 15-degree sections.

Amazing!
Amazing!
LOCATE:
The sun rises in the east and sets in the west. If you have a compass, use it to determine which direction you should look. If not, try to use other landmarks to determine which way is east or west. Sunset is a bit easier to predict since the sun is already out and you can watch it set in the west.

Great!
Great!
IDENTIFY:
Notice the colors of the sunset. Do you see vibrant yellows, oranges, reds, purples and pinks? When you look across the sky, does any of it still look blue?  You may also notice different wildlife coming out as the sun goes down. Animals such as rabbits, bats, owls, deer, opossum, and skunks may start to appear. 

Wonderful!
Wonderful!
LISTEN:
What sounds do you hear outside while waiting for the sun to rise or set? Do you notice different creatures singing and chirping as the light comes out or fades? as the temperature warms or cools? 
Document Your Discoveries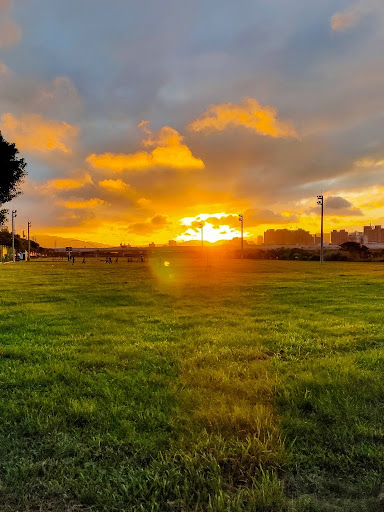 Sketch or paint the sunrise or sunset you observed in your Nature Notebook.
List any creatures you saw at those times of the day.
Bonus: Show us your sunrise or sunset on social media by using the hashtag #GreenHour.
Join this year's Great American Campout—right in your yard or another nearby place!