When Winter turns to Spring signs that a new season has arrived can be seen all around
Let's Get Started
The first day of spring is March 20th! (Spring Equinox) Take a nature walk and look for clues that Spring is here. The weather may vary, depending on where you live. But if you look carefully, you're sure to find signs of the new season all this month.

Good Job!
Good Job!
SEARCH:
For colors. Look for bright green (grass and new leaves) purple, pinks, yellows, and white (buds on trees, flowers), reds, blues, and browns (birds and small animals), and multi-colors (insects and butterflies)

Great!
Great!
COUNT:
All of the animals that you see. Look for birds and migrations of ducks overhead. Count how many different types of flowers you see on the ground and in the trees.

Amazing!
Amazing!
LOCATE:
Signs of animals: scat, tracks, cracked nuts, and find their homes: webs, holes, and nests.

Wonderful!
Wonderful!
IDENTIFY:
Look for creatures great and small. Use a magnifying glass or zoom in with a smart handheld phone or device to identify insects. Most scavenger hunts take place during the day when many animals are hiding. Did you see any signs of wildlife such as a hole in a tree or partially eaten leaf?

Good Job!
Good Job!
LISTEN:
What do you hear? Is it quiet? Or do you hear the sounds of spring? Falling rain, birds singing and bees buzzing.
Document Your Discoveries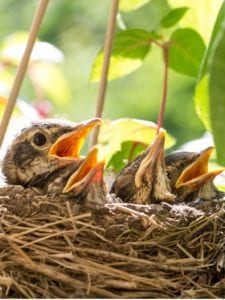 Describe or draw the spring signs you observed in your Nature Notebook.
Remember to watch wildlife from a safe distance. Never disturb any of the animals you find.