If you live near a beach or are visiting one this summer, plan a treasure hunt for seashells. It's lots of fun to search and find many different types of shells as you walk along the seashore.
Let's Get Started
Seashells are what's left after certain sea animals die. The animals that lived inside shells fall into two main groups: Univalves, such as snails, have just one shell. Bivalves have two shells that fit together like a sandwich. These include scallops, clams, and oysters. (The two parts usually break apart before they wash ashore.) Can you find at least one from each group?
It can be helpful to check out a field guide to seashells. Use the guide to help identify the shells you find.

Wonderful!
Wonderful!
SEARCH:
Whether you are visiting the ocean or a lake, walk along the shore and see if you can find shells. Near lakes, you can find shells from freshwater mussels and snails.

Fantastic!
Fantastic!
COUNT:
How many different kinds of shells can you find? If you find a bivalve, can you find what looks like both parts of the shell? Notice if you find a lot more of a certain type of shell in the area.

Wonderful!
Wonderful!
LOCATE:
Walk along the shoreline to look for shells. Dig into the sand, and look through piles of grass or seaweed to see if you can find any hidden shells. If the shoreline is shallow, step a few feet into the water and look for empty shells.

Great!
Great!
IDENTIFY:
Notice the different size, shapes, and colors of the shells you find. Are they univalves or bivalves? Can you guess what type of creature the shell once belonged to?

Awesome!
Awesome!
LISTEN:
While looking for shells, can you hear the sounds of flowing water around you? If you find a large shell, you can put it to your ear and the sound of air moving in and out of it might sound like ocean waves.
Safety Note: If you want to collect or take home any seashells from the beach, be sure it's not against the law where you are. Make sure the shells you pick up are empty and no living animals like hermit crabs have moved into them.
Document Your Discoveries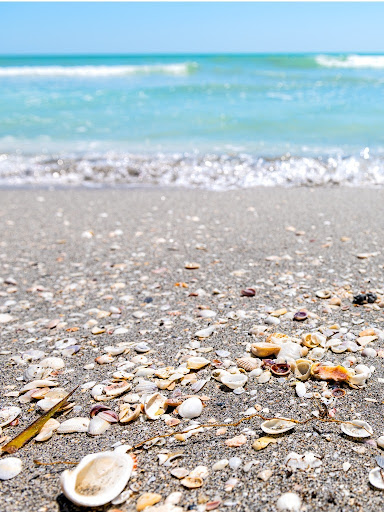 Draw or describe your seashells in your Nature Notebook.
Be sure to note if they were univalves or bivalves.
Show us your seashell drawings and photos on social media by using the hashtag

#GreenHour

.
Bonus: Make Seashell Art with your findings! Create fun crafts and seashell rubbings.
Join this year's Great American Campout—right in your yard or another nearby place!