Let's Get Started
Did you know that July 20th is National Moon Day? On this day in 1969, a man walked on the moon for the first time. Celebrate by enjoying a nature walk under the moonlight.

Awesome!
Awesome!
SEARCH:
If skies are clear, you may be able to see the moon very clearly. Look up and see if you see the moon in the sky, or if it is hiding out behind the clouds.

Good Job!
Good Job!
COUNT:
The small marks on the moon are indentations called craters. How many craters can you see on the moon? Are lots of stars visible too? How many can you count?

Wonderful!
Wonderful!
LOCATE:
What direction is the moon in the sky? Like the sun and other planets, the moon also rises in the east and sets in the west. You can use the moon to help you know direction during a night hike.

Wonderful!
Wonderful!
IDENTIFY:
Can you tell what phase the moon is in tonight? The easiest phases to identify are a full moon–when the moon shows as a full white circle in the sky, and a new moon when the moon is completely invisible in the dark night sky. The moon is either waxing (growing) or waning (shrinking) in its visibility in between those phases. Use this moon phases diagram to help you identify the current moon phase.

Amazing!
Amazing!
LISTEN:
Do you hear the sounds of wildlife at night? You may hear howling wolves, hooting owls, or crickets and katydids chirping.
Document Your Discoveries
Draw or describe what you see during your moon walk in your Nature Notebook.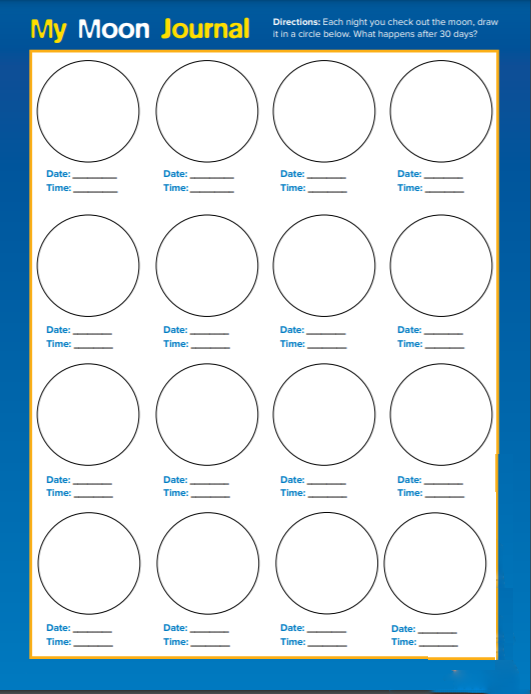 Bonus: Keep a moon journal by observing the moon as many days or nights as possible for a month. Using the circles on the My Moon Journal page, draw what the moon looked like that night. Be sure to write down the date and time too.
Join this year's Great American Campout—right in your yard or another nearby place!