Bird Watching is easy, fun to do alone, or with others, and can be done anywhere you find birds. And, birds are everywhere. Winter is a great time to look for birds because you will see birds who live where you live year round and other species that move in temporarily (migrate) from other places.
Let's Get Started

Awesome!
Awesome!
SEARCH:
Go outside and look around. You should find birds almost anywhere.

Fantastic!
Fantastic!
COUNT:
How many birds do you see? How many different sizes, colors and shapes do you see?

Great!
Great!
LOCATE:
Where are you finding birds? Look up in the sky, in the trees, and on wires overhead, near water, in shrubs, and on the ground.

Awesome!
Awesome!
IDENTIFY:
If you know what kind of bird it is, great, write its name down on your list. When you spot a bird and don't know what kind of bird it is, watch it carefully. Make notes about its size, shape, color, where you find it, and what it is doing. This will help you identify what type of bird it is, such as chickadee, owl, duck, hummingbird, etc…

Fantastic!
Fantastic!
LISTEN:
Be quiet. Birds have a great sense of hearing. So you don't want to scare them away. You will hear birds singing, calling, and chirping. You can identify birds just by the sounds they make.
Document Your Discoveries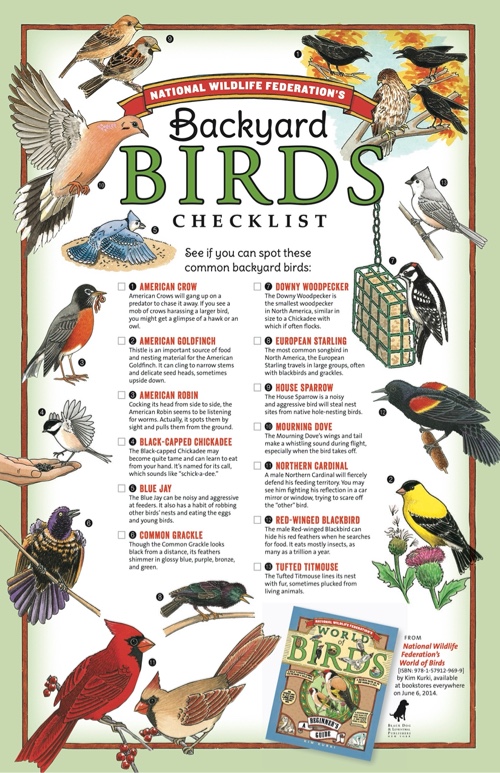 Add any new winter birds you identify to your Bird Life List in your Nature Notebook.
Want to keep watching birds, look up some simple ways to help birds in winter.
Bonus: Join the Great Backyard Bird Count and become a citizen scientist.