Catch a glimpse of monarch butterflies before or as they migrate this fall.
Let's Get Started
Migration is the seasonal movement of a group of animals over a long distance from one habitat to another. Most monarchs in North America live east of the Rocky Mountains and begin to migrate to Central Mexico every fall. While western monarchs have a shorter migration to the coast of California.
Head outside and see if you can spot monarch butterflies migrating through or over-wintering in your neighborhood!

Great!
Great!
SEARCH:
One of the first things to look for when searching for monarch butterflies and caterpillars is their favorite foods– flowers, and milkweed! Adult monarchs enjoy the nectar of lots of different blooming plants. But monarch caterpillars only eat native milkweed. Look in tall grassy areas for milkweed. Find these plants standing tall with oval-shaped leaves and yellow, white, pink, or orange flowers still blooming in fall.

Great!
Great!
COUNT:
Once you find a monarch-friendly area, count how many monarchs, other butterflies, and different pollinators you see landing on plants and flowers. Monarchs lay eggs into October. Count how many caterpillars you see crawling on leaves.

Wonderful!
Wonderful!
LOCATE:
Monarch butterflies lay their eggs on milkweed leaves.  Look underneath the leaves to see if you notice any monarch eggs. Monarch eggs are small, white or off-white, and oval-shaped.

Good Job!
Good Job!
IDENTIFY:
You might confuse monarch butterflies with other orange and black butterflies–the viceroy, and the queen butterfly. Viceroys are smaller than monarchs and have a black line across their lower wings. The queen butterfly is a darker, more reddish shade of orange, and has white spots on its hindwings. Can you tell the difference?

Fantastic!
Fantastic!
LISTEN:
Be sure to move quietly and slowly while watching butterflies. If you're still and quiet enough to hear fall sounds like leaves rustling, birds chirping, and busy bees buzzing, a butterfly may come and land right on your finger!
Document Your Discoveries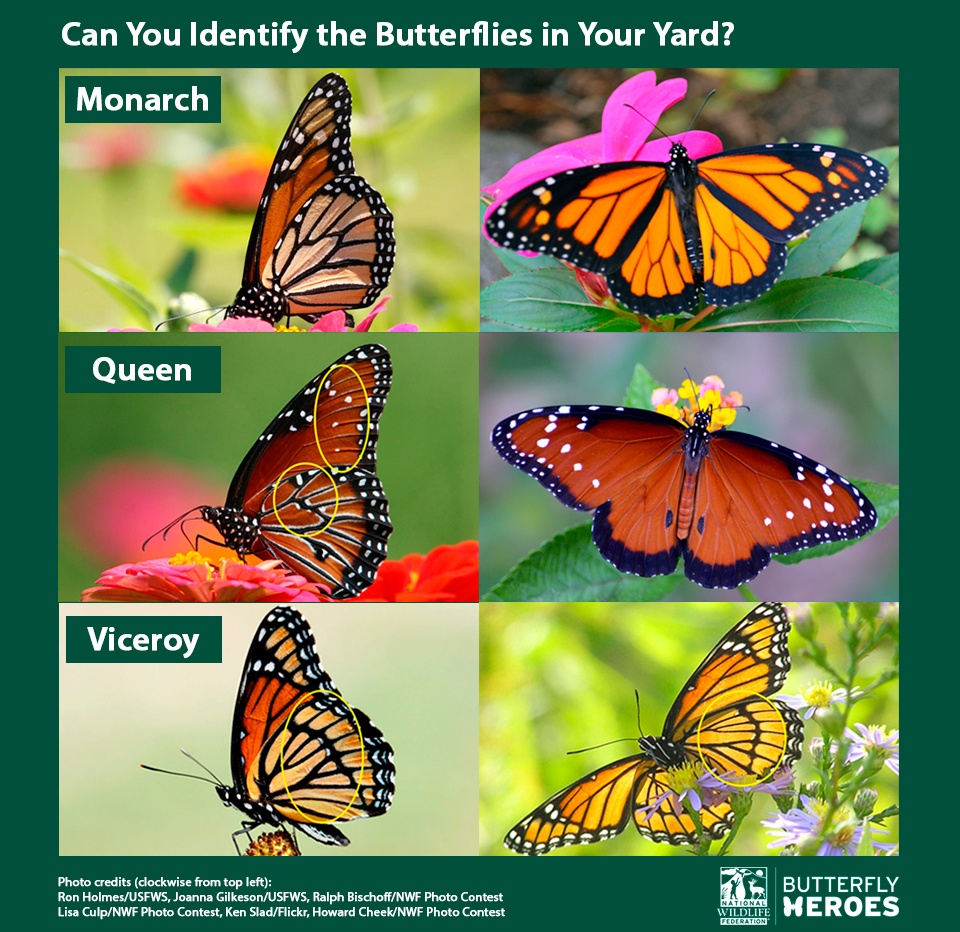 Draw or describe the monarch butterfly in your Nature Notebook.
List or draw other butterflies and moths you see.
Bonus: Want to learn more about monarch migration? See why Monarchs Rule with Ranger Rick®.