As the season changes from summer to fall where you live, what differences do you notice outside?
Let's Get Started
Head outside and look for clues that fall is here. No matter where you live, you're sure to find signs of summer throughout the season if you look carefully.

Amazing!
Amazing!
SEARCH:
Look for trees and shrubs with leaves that are changing colors from green to red, yellow, orange, and brown. Now that fall has begun, the leaves that were just lush and green during the summer are now displaying the beautiful colors of fall. See a special tree you love? Adopt a tree and come back to see how it grows and changes.

Great!
Great!
COUNT:
Do you have nut trees in your area? Try to see how many different kinds of nuts and seeds like acorns or walnuts, have fallen to the ground. Do you see any flocks of birds flying overhead? Try to count how many birds are in each flock.

Wonderful!
Wonderful!
LOCATE:
You may notice wildlife out collecting nuts, fruits, and vegetables as the harvest season begins. Look in trees and on the ground for ripe produce and nuts that are now ready. 

Awesome!
Awesome!
IDENTIFY:
Birds begin to migrate in the fall. Depending on where you live, you might start to notice birds you didn't see around in spring and summer. How many different types of birds do you see? Check out Let's Go Birding for ways to identify different types of birds. Notice their colors and markings, and what kinds of behaviors they display. Do you recognize their songs?

Great!
Great!
LISTEN:
Notice the sounds of geese honking, leaves crunching under your feet, the wind blowing through the trees.
Document Your Discoveries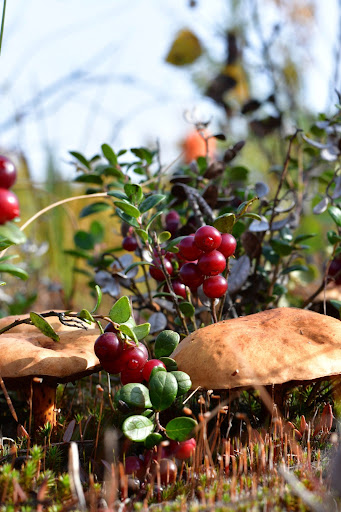 Draw or describe the signs of fall in your Nature Notebook.
Compare your "Signs of Summer" Nature Notebook entries to see just how much things have changed this season!
Bonus: Share your favorite photos or drawings of your fall sightings on social media by using the hashtag #GreenHour.