Each fall, after the holiday celebrations and fall harvest festivals, you might find you have lots of extra pumpkins leftover! Instead of tossing your old pumpkins, use them to help wildlife this fall.
Let's Get Started
Here are four simple ways to get outside and recycle your pumpkins to help wildlife.

1. Make a Snack-o-lantern or pumpkin bird feeder. Use a hollowed-out pumpkin to create a cute seasonal bird feeder. 
2. Compost your old pumpkins. Are your pumpkins too mushy to make a birdfeeder? Go ahead and compost your mushy pumpkins. You can make a compost pile or use a compost bin. If you don't have your own, reach out to local farms, community gardens, or recycling centers to see if they can use your old pumpkin. Remove the seeds or you may end up with a surprise pumpkin patch growing in your compost pile!
3. Feed birds with your seeds. Scrape out your old pumpkins and gather the seeds to put out for birds to eat. You can mix them with birdseed, or put them in a special spot for small mammals.
4. Save your seeds for planting and snacking. Another way to use your pumpkins seeds is to dry them out and save them to plant next year. You can also roast them at home and have them as a snack for yourself.
Document Your Discoveries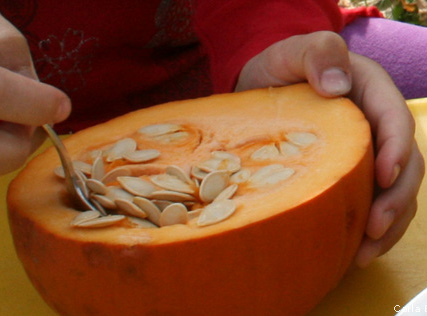 Draw or describe how you recycled your pumpkins this year in your Nature Notebook.
Keep a list of birds you see snacking at your feeder. Use the Bird Identifier to help you identify them.
Note the changes you see in your compost over time.
Bonus: Show us your recycled pumpkins on social media by using the hashtag #GreenHour.