Plogging is a combination of jogging and picking up litter as you go along. It started as an organized activity in Sweden several years ago. Whether you walk or jog, it is a great way to get some fresh air, exercise and clean up the environment.
Let's Get Started

Fantastic!
Fantastic!
SEARCH:
Before you start your plogging activity, think about where you want to go. Your cleanup route can be in your neighborhood or a nearby park. Select a familiar and safe place.

Wonderful!
Wonderful!
COUNT:
Be sure to measure your impact. How many steps did you take or how far did you go? When you are finished, count or weigh how many bags of trash you pick-up.

Wonderful!
Wonderful!
LOCATE:
Gather some family members and friends and have them spread out to start walking, hiking or even jogging to pick up trash in the area you selected.

Great!
Great!
IDENTIFY:
Make a list of everything you need to have a safe experience. For example, wear a mask and gloves and maintain social distancing. Make sure your activities are compliant with local and CDC COVID-19 regulations.

Fantastic!
Fantastic!
LISTEN:
What do you hear? Is it quiet? Are birds singing? Can you see your breath when you exhale? 
Always follow health and safety ordinances before heading outside. If you live in an area where you can be outside, be sure to practice social distancing and robust sanitation practices before, during, and after your cleanup.
Document Your Discoveries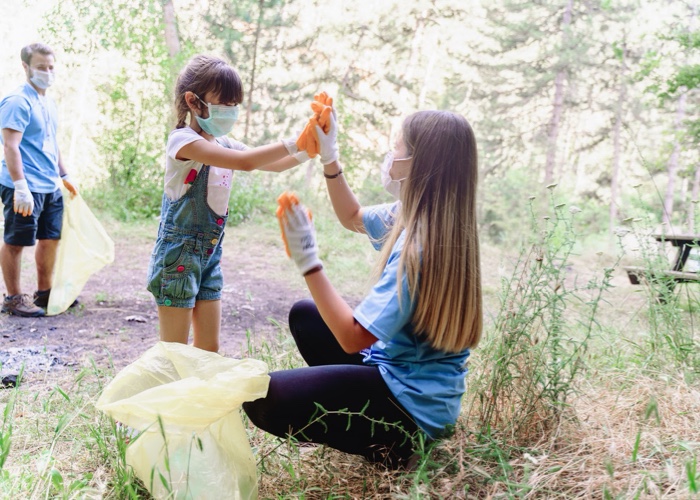 Plan and keep a record of your clean-up in your Nature Notebook.

Bonus

: See if your local parks department or community has an existing volunteer clean-up program, and register your clean-up. Your service may inspire others. Keep America Beautiful has more tips and resources for both individual and group clean-ups.