Every year in the U.S. on February 2, Groundhogs are supposed to come out of their burrows on Groundhog Day and look for their shadows.
Let's Get Started
If the Groundhog sees its shadow, it means there will be six more weeks of winter. No shadows means spring is near. In reality Groundhogs are still hibernating on Groundhogs Day.
Now let's go outside and look for shadows. What do you think happens to shadows throughout the day?

Wonderful!
Wonderful!
SEARCH:
Find a safe outdoor space in a sunny area to stand and mark or trace your shadow. It can be on flat ground where you can mark the size of your shadow with sticks or rocks; or where you can trace it with chalk on a driveway or sidewalk. It's easy to trace your shadow in snow too.

Wonderful!
Wonderful!
COUNT:
Decide how many times in one day you want to check your shadow. Plan on going outside at least twice a day. Once in the morning and once at noon.

Good Job!
Good Job!
LOCATE:
In the morning, stand in your sunny place. Have a parent or sibling trace the outline your shadow makes. If you are by yourself, trace the shadow a stuffed animal or any object you can easily bring outside makes. Go back outside later in the day and find the shadow that you traced. Standing in the same spot, trace the shadow again. Do you notice any changes?

Great!
Great!
IDENTIFY:
What other shadows do you see when you are outside? Try tracing shadow outlines early or late in the day to create huge, distorted shadows. Trace the shadows from other objects you find outside. Make shadows with your hands and body to look like other animals

Good Job!
Good Job!
LISTEN:
Did you know that outdoor shadows change because the earth is always moving? It happens naturally. When you're outside on a sunny day, your shadow always falls on the opposite side from where the sun is. As the sun changes position in the sky, your shadow changes position as well. 
Document Your Discoveries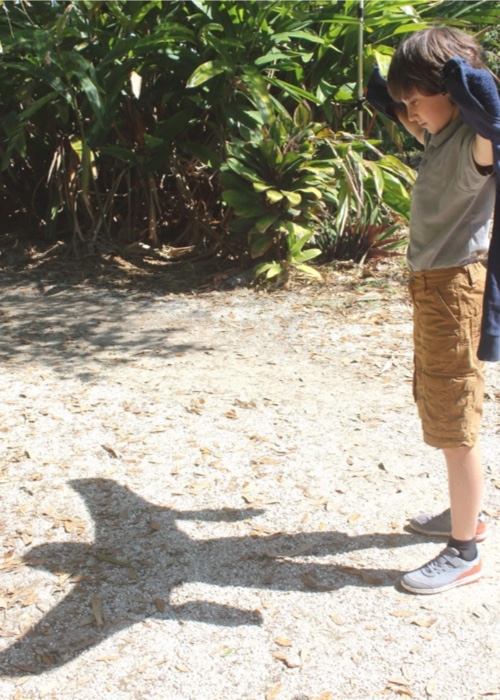 Measure the size of the shadow you outlined and record it each time you go outside in your Nature Notebook.
Describe or draw the shadows you observe. How did they change throughout the day?
Bonus: Want to learn what Groundhogs are really up to year round? Check out the full story in Ranger Rick®