June is pride month and Flag Day is June 14. One fun way to celebrate and have fun with wind is to make a flag of your own.
Let's Get Started
We are celebrating diversity and inclusion in the outdoors this Pride Month and Flag Day is June 14th. One fun way to celebrate and have fun with the wind is to make a flag of your own. Use your imagination, you can decide what colors, size, shape, and theme for your flag.

Wonderful!
Wonderful!
Design your flag!
Use your Nature Notebook to decide what design, colors, images, and shapes you'd like to have on your flag. Try to come up with a few ideas and be ready to get creative!

Great!
Great!
Choose your eco-friendly materials.
Ask an adult if you can gather some old t-shirts, sheets, or fabric. Try to choose lightweight fabrics that already have the colors or images you want to use, or choose white or light-colored fabrics you can paint over (use paper if you don't have fabric). You can use a tree branch, an old broom handle, a wooden dowel, or whatever long sturdy item you can find around the house–inside or outside. 

Good Job!
Good Job!
Fly your flag.
Cut your main piece of fabric to size or cut a bunch of strips of fabric to the length you want and glue their edges together. Once you've created the main part of your flag, you can draw/paint images onto your flag, or cut and glue other pieces of fabric on to make your designs. Once everything is dry, take the edge of your flag and wrap it around the handle and glue it into place. Let it dry. 
Tip: Roll and scrunch the fabric so that it isn't stiff from the glue. You can hold your flag by the handle or stick the handle in the ground and watch it flap in the wind.
Document Your Discoveries
Draw or describe your flag design in your Nature Notebook.
Was it a windy day? Did you notice your flag flapping in different directions during the day?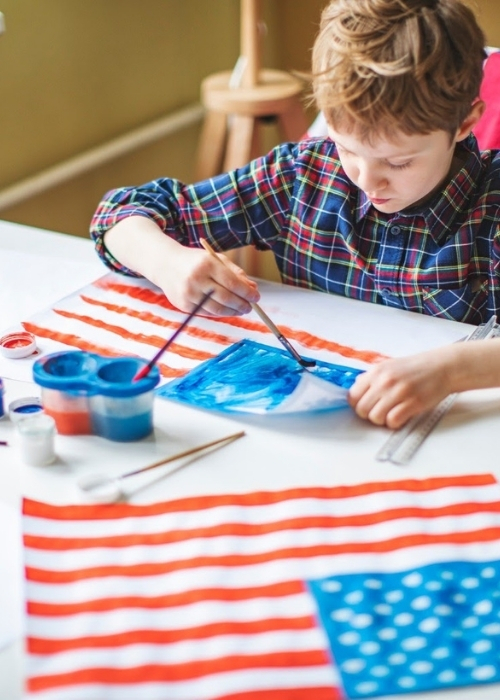 Bonus: Have some more windy day fun by making a hummingbird windsock. Visit Ranger Rick™ to learn how.