March 17th is St.Patrick's Day. Can you find an irregular and lucky four-leaf clover?
Let's Get Started
St.Patrick's day is one of the most widely celebrated days around the world. People recognize the day by wearing green, and green shamrocks and clovers are some of its symbols. Since clover usually have three leaves, finding a four-leaf clover is considered good luck.

Fantastic!
Fantastic!
SEARCH:
So head out and safely search for green patches of clover in your backyard or as you walk in your neighborhood. Clover stand out and are early signs that Spring is on its way.

Good Job!
Good Job!
COUNT:
About one out of every 10,000 clovers will have four leaves and nearly 200 clovers are found in a 2 foot square area.

Awesome!
Awesome!
LOCATE:
So, look for a large patch of clover or several small patches scattered through your yard or along the grassy areas in your neighborhood. The four-leaf clover occurs in white clover (Trifolium repens).  It is very common.

Awesome!
Awesome!
IDENTIFY:
Instead of trying to examine every clover in the patch, try scanning that patch.This increases the odds that a four-leaf clover will jump out to you because it is different from the others.

Great!
Great!
LISTEN:
Take a moment to listen. Does it sound like spring yet where you live?  Can you identify any sounds of Spring? Do you hear any birds singing?
Document Your Discoveries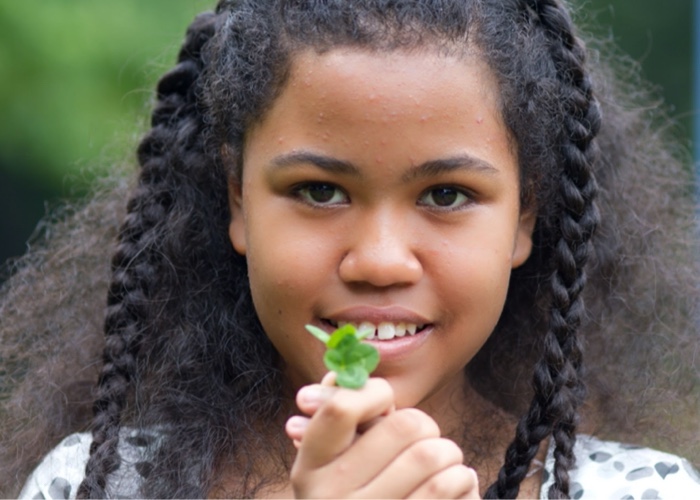 Draw or sketch any four-leaf clovers that you find in your Nature Notebook.
Save your four-leaf clover in your Nature Notebook by pressing it on the page.
Bonus: Learn how to press clovers and spring flowers to make them last forever with Ranger Rick®.