Make simple games with rocks and natural objects and play them outside.
Let's Get Started
What are some of your favorite board games? If you like to play Checkers, Tic-tac-toe or Chess, you will find it is even more fun outside.

Fantastic!
Fantastic!
SEARCH:
Search for natural objects, like rocks, pinecones, sticks, or seeds for game pieces.

Good Job!
Good Job!
COUNT:
For Checkers, you need about 40 natural objects to make your game pieces. Half or 20 playing pieces will be one type of object such as a rock and half should be another such as an acorn. For Tic-tac-toe, you need 20 game pieces total. 10 are one type of object and 10 are another to represent "X's" and "O's." If all of your items are the same, you will need to paint or mark half with a color to tell each player's games pieces apart.

Awesome!
Awesome!
LOCATE:
Find a flat space to sit and play your game. Try to look for a place where you can draw a grid or your gameboard in the dirt or sand at a playground or with chalk on a sidewalk.

Amazing!
Amazing!
IDENTIFY:
Can you think of other simple board games you could make to play outside?

Good Job!
Good Job!
LISTEN:
Be sure to find a fairly quiet place to play your game and enjoy the sounds of nature too.
Document Your Discoveries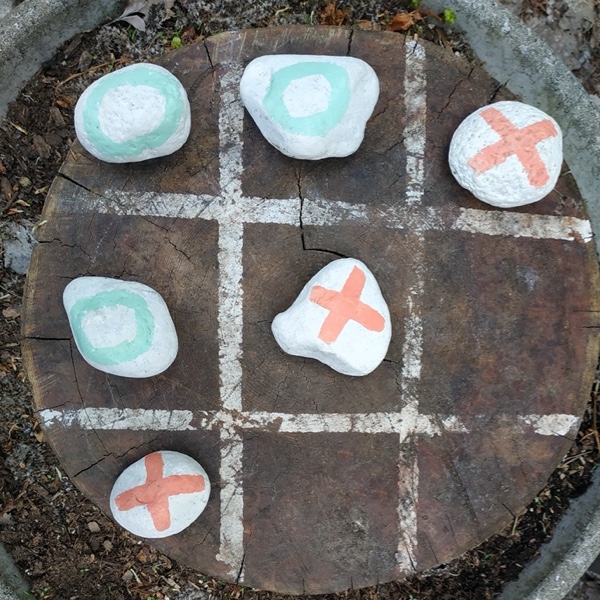 Head outside with your Nature Notebook to keep score.
Play your favorite word games such as Categories, "Snowman" or Hink Pink.
Bonus: Move the family game night outdoors with a puzzle or play any board or card game outside.