Let's Get Started
There are more than 300 species of dragonflies in the United States and about 3,000 around the world. They come in all colors and patterns. And they have cool names such as darners or dashers, skimmers, or gliders. Find some quiet waters on a warm, sunny day and go dragonfly-watching!

Fantastic!
Fantastic!
SEARCH:
Head outside and safely look for bodies of water. Dragonflies will be nearby! These can be small bodies of water like a puddle to a creek, a pond or something bigger like a river or lake.

Good Job!
Good Job!
COUNT:
Many different kinds of wildlife rely on bodies of water for drinking, laying eggs, or as their main habitat. How many different flying insects do you see? Are any of them dragonflies? You can tell it's a dragonfly because when it lands the wings remain horizontal like an airplane. They do not fold up like other insect wings.

Awesome!
Awesome!
LOCATE:
If you don't see them immediately, poke a tall stick in the mud near the water's edge and watch awhile. Maybe a dragonfly will choose your stick as a perch. Look around for shed nymph skins, too.

Wonderful!
Wonderful!
IDENTIFY:
When you see a dragonfly, creep up for a closer look. Check out its colors. Can you see its big eyes? Can you tell what kind of dragonfly it is?

Awesome!
Awesome!
LISTEN:
When it zooms away, keep watching and listening. Can you hear its wings as it zips past you?
Document Your Discoveries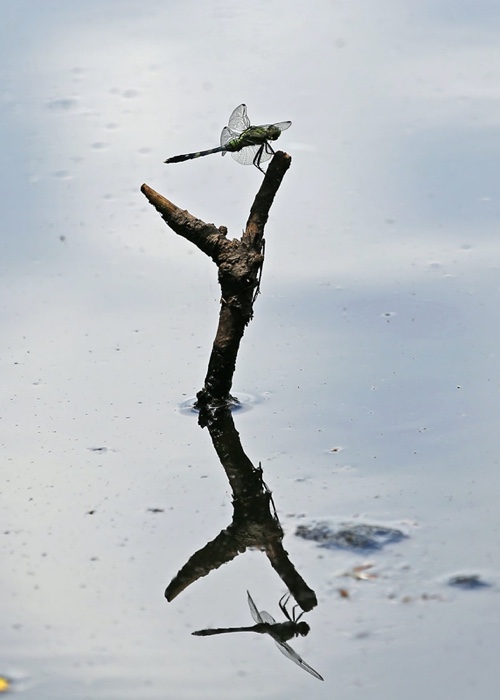 Keep track of your observations in your Nature Notebook.
Use a field guide to ID the species you find. The Guide to Migratory Dragonflies from Xerces Society is free online.
Bonus: Show us your dragonfly drawings and photos on social media by using the hashtag #GreenHour.